Hello! Lots of people ask us how we get those harmonies in the songs we sing. If you'd like to learn, there is a fabulous opportunity coming soon - at the end of May. I have teamed up with singing director (and harmony expert) Roger Jackson, to offer a three day singing/ harmony workshop in a beautiful Suffolk tythe barn. The 4 nights/ three days workshop is called 'Three Days in May'. We're running it again this year to build on the fabulous success of last time - please check out the comments/ reviews. Roger has been Towersey Folk Festival's choir leader for oodles of years and his enthusiasm is boundless. Most of you probably know what I'm like.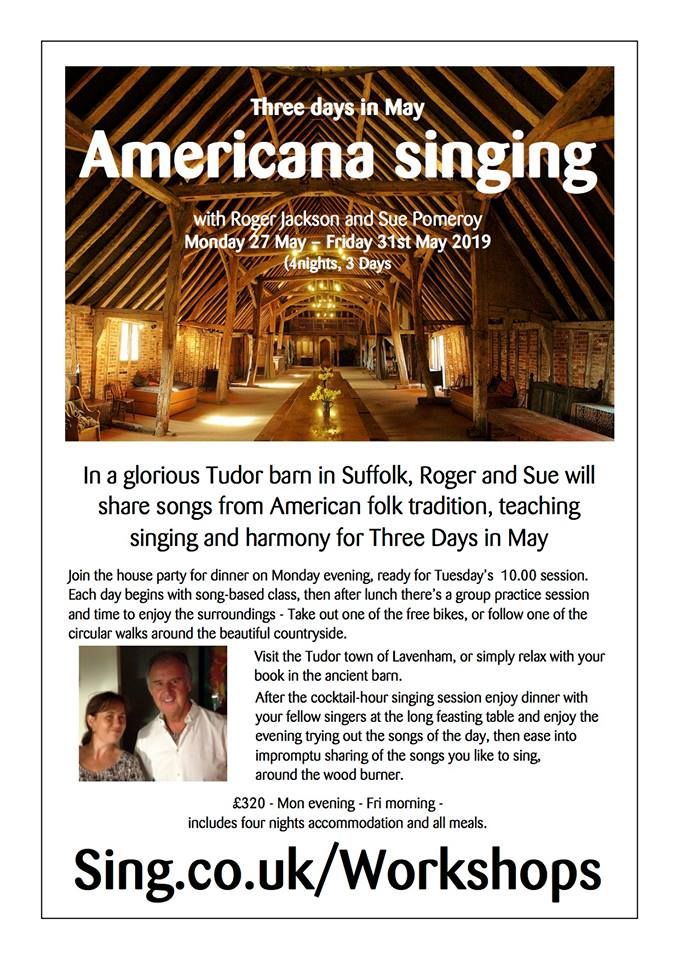 Three Days in May 2019 - sing.co.uk
Learn to sing Americana music in small groups and get a blend that really punches on those fantastic songs.
Relax in beautiful Suffolk countryside and wrap yourself up in music for three days.
The price includes food (breakfast, lunch, dinner) and accommodation and tuition - £320 all in. If you want more than the basics, it could cost more if you want more luxurious accommodation options - but the basics are rather nice, I think.